Lawn Care & Maintenance in Redmond WA: Put Your Trust in Our Hands!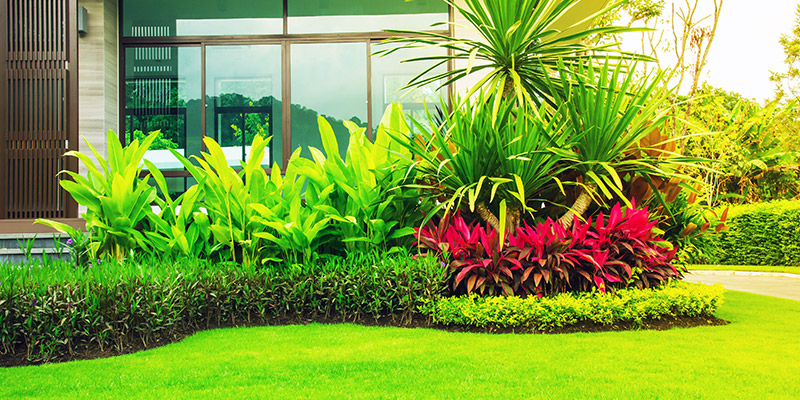 You are here for at least two reasons. The first reason can be that you want to sod a lawn and create a beautiful landscape. So as someone new, you are looking for the best lawn care & maintenance in Redmond WA.
The second reason can be that you are unsatisfied with the job of your current landscaper. So, you are hoping for a new fresh start with Saltos Landscaping LLC. Here you'll get the professional lawn care you need.
The reasons could vary from service quality to price to others. Indeed, no matter why you need professional lawn care services, it's your lucky day since we offer efficient and affordable services.
Benefits of Getting Our Professional Lawn care & maintenance in Redmond WA
Hey, before we go on and tell you in detail all the reasons you should trust us, we want to list our professional lawn care & maintenance benefits in Redmond WA.
Firstly, by trusting Saltos Landscaping LLC, you will enjoy many benefits of our residential landscaping services:
Affordable and High-Quality Results
Get a Lush, Beautiful, and Perfect Lawn and Landscaping
Proactive and Proper Lawn Care & Landscaping Services
Get the Perfect Yard Maintenance All Year Long
You Will Save Time for Other Interests
Your Plants Will Be Treated with the Right Equipment and Tools
Today, we'll tell you the reasons why you should trust your landscaping needs for us.
Reasons Why Saltos Landscaping LLC Is the Right Landscaping Company for You!
1. Our Clients Come First. You Are Our Highest Priority


We don't have to be geniuses to know that the business that places its clients as its priority is the business that successes.
One of the reasons you should get our professional lawn care services is that we offer the best customer service.
The effective communication we offer to our clients is a pivotal part of what makes our lawn care & maintenance in Redmond WA, outstanding.
Since the first moment you email us or call us to get your free quote, we are friendly and, above all, helpful.
2. We Provide Expert Advice. It Is You Who Has the Last Word!


That's right! We are only advisers and facilitators. In other words, our mission behind our services of lawn care & maintenance in Redmond WA is that you grow a lush, green, and healthy lawn.
Although we have vast expertise (around two decades in the landscaping industry), we don't have the final say in what happens to your lawn.
We do this to give you options for your needs and advise you so that you can choose the best solution.
As one of the leading companies, it is crucial for us that you end up happy with the results. According to what you envision to make your landscape more appealing, we will only suggest, and you pick the best.
You can even learn some lawn care tips, or we can also share a lawn care guide so that you can always keep a lush lawn.
3. We Have the Best Equipment to Care for Your Lawn!


We know the story of someone that became our client. She was a homeowner that was unsatisfied with her last lawn mowing and care services.
In other words, she was working with a landscaper that did not have the best tools to do the job.
Therefore, every time he mowed the lawn, he was cutting it extremely low. We know what happens if you cut your grass too short. The previous landscaper was punishing the lawn.
She told her previous landscaper to cut the lawn higher, but he did not obey.
She was sad never to be able to admire an entirely green lawn when she was with her previous landscaper. So, she decided to change from a landscaper. And she chose us as her go-to company for lawn care & maintenance in Redmond WA.
We knew how mistreated the lawn was; it even had some brown spots. We used only our best equipment and the most qualified landscapers to cut the property at the ideal height.
Part of that was a piece of cake since we have the best equipment. We make sure to keep our equipment always in the best shape.
Therefore, our lawn care equipment allows our landscapers to do their job without getting frustrated, irritated, or placing any person or pet in danger.
4. We Are Licensed and Insured. Thus, you'll get a Guaranteed Service!


After almost two decades of serving our clients, it is a must for us to be licensed and insured. Therefore. we do this because we care about you and your property.
We are licensed and insured; therefore, we are dedicated, responsible, and Class A professionals.
So, we are not trying to make quick bucks. What we do is to provide the best lawn care & maintenance in Redmond WA.
Then, if someone is injured by accident on your property, our insurance company will cover the damages.
5. Complete Lawn Care and Maintenance Services All Year Long


Once you entrust your residential lawn care to us, you can rest assured that our team will take care of everything your lawn and landscape need to look awesome all year long. Therefore, we are the team to call!
We know that winter is one of the most challenging seasons for your lawn. But if you work with us, we can prepare it for the colder season.
Of course, you don't want the weather to ruin the look of your lawn. You want to start the spring with an already green and lush lawn.
Indeed, we are committed to quality services and total satisfaction.
So, if you trust your yard to us, we'll make it the envy of your neighborhood. We offer the best services of lawn care & maintenance in Redmond WA.
Another thing that we do is to kick the weed out of your yard. We know all the common lawn weeds and how to get rid of them.
Therefore, we use the best lawn care products and best lawn weed killers.
We offer a wide variety of services; for example:
Mowing and Edging
Fertilizing
Lawn Weed Control Services
Disease Lawn Treatment Service
Effective Pest Control Services
Lawn Aeration
Irrigation System Maintenance and Repair
Trimming of Shrubs or Hedges
Planting or Reseeding
Mulching
Clean-Up and Leaf Removal
Call the Best Lawn Doctors Now!
Call Saltos Landscaping LLC so that you can get the best lawn care & maintenance in Redmond WA.
In other words, we are experts in landscaping maintenance, offering front yard landscaping, backyard landscaping, and even commercial landscaping services.
In other words, when it comes to affordable and thorough gardening services, Saltos Landscaping LLC is the team to trust!

We Cover 60 Miles around

Renton WA
Seattle

Rainier Valley

Bellevue

Renton

Redmond

Kirkland